Kill Your Cat
On December 28th in Redmond, OR a one-eyed kitten was born. It lasted for two days before it died. The owner still reportedly has the corpse of this monstrosity in her freezer in case science is interested. Look at it. Does it freak you out? It freaks me out. Bad.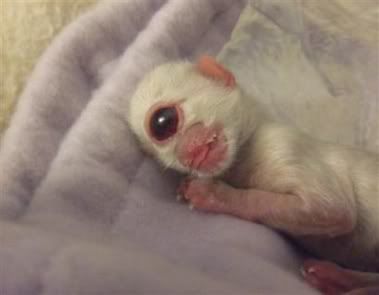 That is why I'm....no seriously stop looking at it and pay attention. Thank you. That is why I'm now asking you to kill your cat. It is obvious that this is merely a test kitten, a first step if you will, designed by the Cat Leaders. I have known for some time that the Cat Leaders have had it in for us. They have been biding their time, waiting patiently on the hood of my car, for the perfect moment to strike. But they have commited a critical blunder now. It's made the news and the jig is up. Their plans to create an army of cycloptic cats has been uncovered by an unwitting woman in Redmond, Oregon of all places. In her freezer lies all the proof we need that the Cat Leaders are now dabbling in the realm of God by bio-engineering their own breed of one-eyed monsters, viewed as completely expendable by their two-eyed feline overlords who view themselves as superior with their bifocal vision.
One look at this, this abberation gives us a few clues as to what the Cat Overlords are planning. It has one eye which from the picutre obviously shoots some sort of death ray, prehaps even something akin to the sinister abilities of Medusa herself, we cannot be sure until the corpse is studied in detail. Also this cat has been designed for some sort of marine warfare as it has no nose, leading to the obvious conclusion that it has no need for oxygen. I don't think it would be considered overreacting to alert our naval fleets to be on the lookout for any kittens who have been born in secrecy already and raised to maturity and schooled in the dastardly martial arts which only cat know. Perhaps even notifying the cruise lines would be in order. We should also keep a sharp eye to the trees. Cats, already good climbers, would benefit greatly from some cross-breeding with simian stock, and as you can tell from the picture this kitten obviously has some monkey-blood running through its veins. Imagine the stark terror you would feel if a small squad of, say, 15 of
these horrors
dropped out of a maple tree onto you and set about with their rending teeth and sharp talons. I'm sure I don't have to go into detail about how they would eat you. If you don't believe that they're cross breeding with apes, let me direct you to this
video
, obtained by spies, where a disgusting chimp give a cat a sensual bath in preparation for their unholy union.
I hope I have driven home the dire urgency of our situation here. Now I implore you, go kill your cat. The Cat Overlords and their agents have been allowed to monitor our activities too long. Their intelligence network is second to none. They know too much! Kill your cat now before it is too late! Kill it! Kill it, I say!